Cut a Dupraz DI snowboard in half:
you get an incredible pair of skis, the DII!
"...When water and snow elements fuse into a new generation of shapes!
A unique blend of great aquatic principles and typical Alpine parameters:
Short, deeply cut rib lines to fit naturally into the curve and anchor powerfully in the snow.
Soft and harmonious shapes to move smoothly and skim the ground.
Long progressive spatulas to accelerate and split the snow as they would on a wave.
Generous load-bearing surfaces, essential for flying in deep snow.
A naturally efficient geometry in all types of snow as well as on piste.
A logical concept that draws its DNA from the drop that became a flake.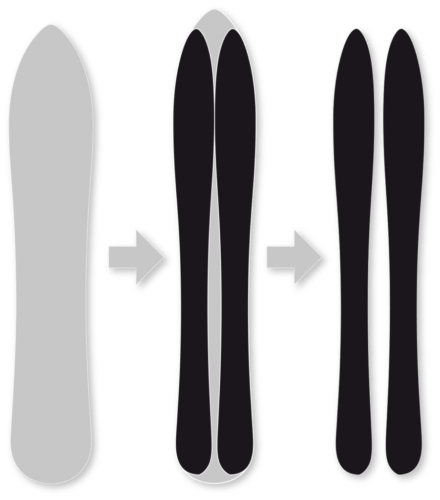 Ski like you're riding a wave...
The ultimate fusion of water surfing and skiing for truly new sensations.
DII, the skis that have transformed the vision of freeriding since 2012.
The skis of multi-sliders, whatever their age.
The spatula revolution began with the DII, which won the award for the most innovative product at ISPO 2012.
The shape that offers the largest load-bearing surface in the industry.
Snowboarders love these skis because they have the same sensations as with their D1.
Play with the elements, get off the beaten track, DIIs have no limits...
Even the widest DII, with 125 mm on the skate, is a track carving monster: fast, agile and eye-catching!
Always have a ski buddy with you, to get out of difficult situations.
In extreme conditions, the DIIs are always there to provide stability and control.
Poles are one of the advantages of skiing: they are sometimes very useful!
The DII on the spatula confirms that he is indeed a skier!
DIIs are a carving weapon, even on a glacier at 10:00 in the morning.
"Without deviations from the norm, progress is not possible.
Frank Zappa
Did you break down? This is where we buy!
The range is ultra simple with 4 models:
- The S series for use 20% freeride - 80% piste
- The N series for use 50% freeride - 50% piste
- The O-series for use 70% freeride - 30% piste
- The W series for use 90% freeride - 10% piste
Due to their shape, all these models, whatever their size, have superb carving skills, as well as powder flotation.
SYMMETRICAL RADIUS SIDECUTS
From the pleasure of fluid and intuitive driving in fast and sharp curves on the slopes to the joy of putting your spatulas outside with ease...
This shape will make you discover new potential? to draw your most beautiful curves, to admire them, to feel them? to live them.
ASYMMETRICAL RADIUS SIDECUTS
Great comfort in deep or difficult snow. Surprising acceleration and ease of cornering in curves. Its exclusive asymmetry makes it possible to optimize your driving by choosing between large or small curves.
Outstanding off-road development possibilities.
ASYMMETRICAL RADIUS SIDECUTS
Its enormous bearing surface, long progressive tip, asymmetrical radii and curved edges make it an absolutely unique ski.
Redefining the principles of stability, buoyancy and speed, its power will lead you to sensations as exclusive as they are impressive.
SYMMETRICAL RADIUS SIDECUTS
LE W: It's like having wings under your feet. A sensation closer to flying than skiing. Wow what a foot!
Without a doubt the W is the ultimate freeride gear, the Fatal Weapon: Play when you want, precise when you want.
And you can forget the old references. The W is much more than just a powder ski. Whether it's fresh, blown, crusted or transformed snow, the W series will give you the opportunity to ride out of the ordinary, take it to another dimension?
Technology :
Wood Core 100% / Tri-axial Fiberglass with Carbon / Aqua smooth Rocker HD Trench Sole / CE Made / Patented shape


Symmetrical Shape :
Text on shape to put here.
Asymmetrical shape:
Text on shape to put here.
Follow us on social networks
Dupraz Snow 2023 - Copyright - All rights reserved - Secure site SSL protocol - Secure payment by credit card
Webmaster : DDM3.COM - Referencing : Cracker's Tech
Photo credits : Sebastien Anex - Atis Erics - Andonie Elpede - Jean-Marc Favre - Fabien Lamborot - Quentin Lerouey - Chris Bowers - Damien Deschamps - Josh Nisbet - David André - Tristan Schu - Ryan Pappas - Fabien Debout - Boris Ligier - Nicolas Rosset - Théo Grisey - Maszewski André
Dupraz Snow 2023 - Copyright - All rights reserved - Secure site SSL protocol - Secure payment by credit card
Webmaster : DDM3.COM - Referencing : Cracker's Tech
Photo credits : Sebastien Anex - Atis Erics - Andonie Elpede - Jean-Marc Favre - Fabien Lamborot - Quentin Lerouey - Chris Bowers - Damien Deschamps - Josh Nisbet - David André - Tristan Schu - Ryan Pappas - Fabien Debout - Boris Ligier - Nicolas Rosset - Théo Grisey - Maszewski André
"Enjoy the ride