Our quiver-killing shortboard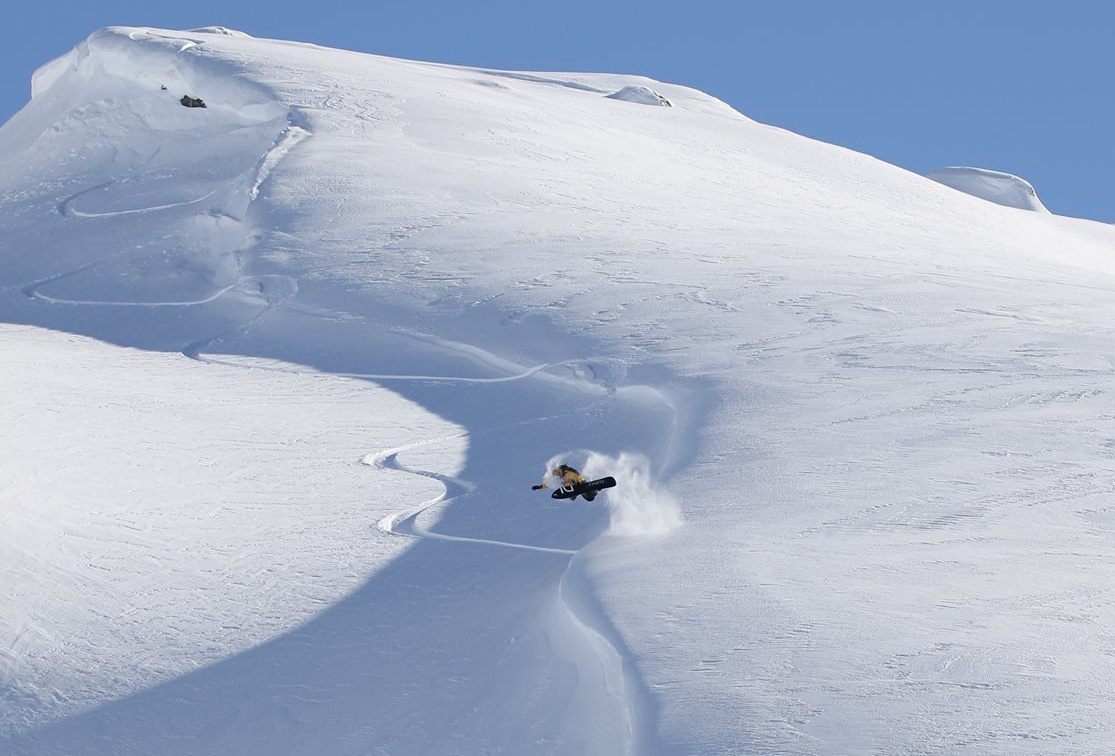 The 5'5" sweeps away and redefines the very notion of versatility, delivering great performance in all snow conditions.
The 5?5? is the ultimate quiver killer shortboard. The ideal everyday board, for playing on and off the slopes. The dream snowboard for exploiting all the facets of the mountain, from its summit to its foot, and making it a huge playground. This board will surprise you in your craziest tricks, forgive you many mistakes in repositioning, and if you are a fan, will enchant you in your switch riding; the perfect snowsurf to unleash all your creativity.
If that wasn't enough, for further customization, we have three different flexes available. Choose one according to your weight and riding style: the regular 5'5 for a more freestyle flex, the 5'5 + for a stiffer all mountain ride, and the ++ for our stiffest flex, that will please former hardbooters and snowboard x racers. Choose a tab below to read more about each flex:

Snowboard Dupraz D1 5'5 STD
The 5'5 has a medium flex through the nose and waist for increased torsional flex (and for enjoying a few sneaky butters when no one is looking). Don't worry though, the 5'5 keeps the firm tail of the 5'5+ to power out of carves and stomp those cliff drops. It's the best of both worlds.

Order today for delivery within a week.

Beginner
55 kg 85 kg
Confirmed
50 kg 80 kg
Expert
45 kg 75 kg
Beginner
1.55m 1.90m
Confirmed
1.55m 1.85m
Expert
1.60m 1.80m
Length
Better lift, without the sensation of length, this is the advantage of the Dupraz shape.
This 165 rides like a 154that's our commitment !
As you can see the length in contact with the snow is identical for these 2 boards. Clear advantage for the Dupraz, which gains in bearing surface, so useful in many conditions...
Profile and camber
Thanks to the famous Aquasmooth Rocker (from which the entire snowboard and ski industry was inspired), the spatula guarantees the absorption of the irregularities of the terrain and an almost instantaneous de-icing in powder snow.
Construction
Nothing beats a good and solid wood core combined with tri-axial fibreglass, rubber reinforcements above the edges, which ensure the glueing between the steel of the edges and the fibreglass. But they also serve as shock absorbers. The whole thing is assembled with a sole and thick edges to allow you to maintain your board for a long time!
Fiberglass (and/or carbon)
lower
Fiberglass (and/or carbon)
Superior
Top cover with underside printed decoration
Technical Specifications
Shape: directional, patented
Profile: Aquasmooth Rocker
Core: 100% wood, assembly of several species
Fiberglass: tri-axial
Base: high density trench
Manufacturing: European Union


Model option ++
Carbon reinforcements
Board Specs
Actual size: 165 cm
Feels like: 154 cm
Minimum stance: 46 cm
Maximum stance: 62 cm
Effective edge: 115 cm
Nose width: 31 cm
Waist width: 25.6 cm
Tail width: 29.8 cm
Infinity 4D shape
A unique shape that allows the vast majority of riders to have a board that performs in all snow conditions and types of slopes.
Follow us on social networks
Dupraz Snow 2023 - Copyright - All rights reserved - Secure site SSL protocol - Secure payment by credit card
Webmaster : DDM3.COM - Referencing : Cracker's Tech
Photo credits : Sebastien Anex - Atis Erics - Andonie Elpede - Jean-Marc Favre - Fabien Lamborot - Quentin Lerouey - Chris Bowers - Damien Deschamps - Josh Nisbet - David André - Tristan Schu - Ryan Pappas - Fabien Debout - Boris Ligier - Nicolas Rosset - Théo Grisey - Maszewski André
Dupraz Snow 2023 - Copyright - All rights reserved - Secure site SSL protocol - Secure payment by credit card
Webmaster : DDM3.COM - Referencing : Cracker's Tech
Photo credits : Sebastien Anex - Atis Erics - Andonie Elpede - Jean-Marc Favre - Fabien Lamborot - Quentin Lerouey - Chris Bowers - Damien Deschamps - Josh Nisbet - David André - Tristan Schu - Ryan Pappas - Fabien Debout - Boris Ligier - Nicolas Rosset - Théo Grisey - Maszewski André
"Enjoy the ride